HIS 6950 IceQ X Turbo X 2GB GDDR5 PCI-E 2xDVI/HDMI/2xMini DP

Ürün Kodu
H695QNX2G2M
EAN Kodu
4895139005684
Soğutucu
IceQ X
GPU
6950
Çekirdek Hızı
880 MHz
Bellek Hızı
5200 MHz
Bellek Büyüklüğü
2048 MB
Bellek Cinsi
GDDR5
Bellek Arabirimi
256 bit
Arabirim
PCI Express x16 (PCI Express 2.1)
Kart Boyutları
14.2 x 4.2 x 26 cm
Kutu Boyutları
32.31 x 18.45 x 9.5 cm
Kutu Ağırlığı
1.16 kg
Availability
About DiRT® 3™
Coming 2011, DiRT 3 will boast more cars, more locations, more routes and more events than any other game in the series, including over 50 rally cars representing the very best from five decades of the sport. With more than double the track content of 2009's hit, DiRT 3 will see players start at the top as a professional driver, with a top-flight career in competitive off-road racing complimented by the opportunity to express themselves in Gymkhana-style showpiece driving events.
As players race to elevate their global standing, DiRT 3 delivers mud, sweat and gears world over: from the intense weather-beaten rally stages of Europe, Africa and the US, to executing performance driving showcases and career challenges where car control is pushed to spectacular limits.
Dirt 3 Official Gameplay Trailer (HD)
IceQ X Cooling Technology

Faster
Make your Overclocking dream comes true!
The HIS IceQ X Turbo X models are bios-overclocked out of the box, and thus brings the immersive gamers the best over-clocking potential.
Cooler


HIS 6950 IceQ X is cooler than the Reference Cooler.
Thanks to the 9.2cm silent fan, massive amount of cool air is drawn from the central fan to cool down the GPU and graphics card directly.
4 heatpipes optimize cooling performance by removing heat from the core area, providing ultimate solution for professional gamers and HTCP users.



Quieter
HIS 6950 IceQ X is quieter than the Reference Cooler.

High Quality Components


High-end components and techniques reinforce stability and durability.
Dynamic Phase Control PWM IC - A significant energy saving technique for reducing power consumption.
Solid State Choke (SSC) - Durable Iron that can maximize current capacity, power efficiency and stability.
Full Solid State Capacitors - Extend the lifespan and storage capabilities.
Get Immersed with AMD Eyefinity Technology
Featuring 2GB of high-speed GDDR5 memory, the AMD Radeon™ HD 6900 Series is primed to enable ultra high-res multimonitor gaming.
Expand your favorite games across up to 4 displays with AMD Eyefinity technology for an incredibly expansive field of view.
See more of the battle than ever before with up to 4 simultaneous displays enabling an intense "wrap around" experience to put you right into the game.
Get the freedom and flexibility to upgrade. This modular solution enables you to add additional displays as you need them.
Get more done. Put your productivity into overdrive and let up to 4 displays put all the information you need right before your eyes.
Don't choose between play and work. Let up to 4 displays help you enjoy games, movies and the web at the same time.
Get Amazing EyeDefinition Graphics with Direct® 11 Technology
Be ready to crush the competition in the hottest DirectX® 11-capable games with a new and advanced architecture featuring full DirectX® 11 support and scalable geometry processing.
Featuring a new and advanced architecture with scalable geometry processing, the AMD Radeon HD™ 6900 Series is purpose-built to dominate your games.
Maximum efficiency. Maximum performance. AMD PowerTune technology in the AMD Radeon™ HD 6900 Series puts exceptionally intelligent power management under your control.
With unbelievable frame rates and flawless graphics, the AMD Radeon™ HD 6900 Series is the ultimate solution for serious gamers.
Raise the bar for beautifully smooth image quality with Enhanced Quality Anti-Aliasing (EQAA) on the AMD Radeon™ HD 6900 Series.
With dual advanced programmable tessellation engines, the AMD Radeon™ HD 6900 Series delivers more than twice the geometry processing performance of the previous generation.
Play your favorite games in full stereo 3D, and get incredibly rich and interactive gameplay with AMD HD3D technology.
Speed Up Applications and Enjoy Brilliant Video with AMD EyeSpeed Technology
Unleash the most demanding applications with AMD Accelerated Parallel Processing (APP) technology. Do more, faster.
Supports double precision floating point arithmetic to handle computationally intense workloads.
Perfect your online and Blu-ray video experiences with a new level of smooth visual quality with AMD EyeSpeed visual acceleration technology.
Experience Blu-ray 3D as it was intended with AMD HD3D technology.
Take advantage of AMD Radeon™ HD 6900 Series graphics' Dolby TrueHD and 3D HDTV support to create that theatre-quality experience.
Put out Stunning Visual and Unrivaled Audio Experience with HD3D Technology
Stereo 3D display/glasses support
Stereo 3D gaming
Blu-ray™ 3D support
3rd Party stereo 3D middleware software support
Launching with AMD Radeon™ 6900 Series GPUs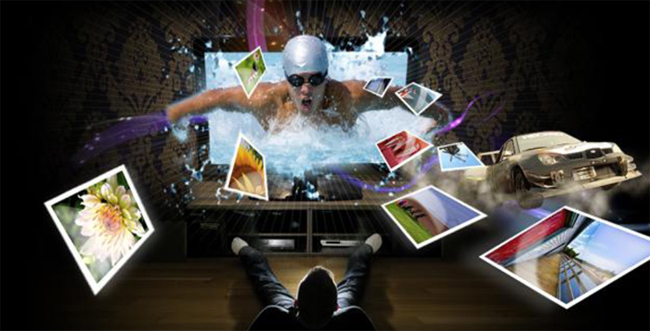 HD 6900 Features and Benefits
| | |
| --- | --- |
| Features | Benefits |
| Microsoft® DirectX® 11 Support | Get intense gaming performance and unrivalled image quality with stunning 3D visual effects, realistic lighting and lifelike imagery, driven by a new and advanced DirectX® 11-capable architecture with scalable geometry processing. |
| AMD Eyefinity Technology | Enjoy the ultimate immersive gaming experience with AMD's Eyefinity multi-display capabilities |
| AMD Advanced Parallel Processing technology | Accelerate the most demanding applications for improved performance |
| Advanced GDDR5 Memory Technology | Delivers more speed and higher bandwidth |
| AMD CrossFireX™ Technology | Increase your gaming performance with AMD CrossFireX™ Technology |
| 3rd Generation TeraScale Engine | Provides increased processing power for the latest games and accelerated applications |
| 40nm Process Technology | Provides enhanced processor performance while using less power and better transistor efficiency than previous generation technology |
| Accelerated Video Transcoding | Helps improve video transcoding performance |
| Display Flexibility | More flexibility with maximum connectivity for the latest display technologies |
| HDMI 1.4 | Helps ensure you get the full Blu-ray and PVR experience from your PC |
| Dolly®TrueHD and DTS-HD Master Audio Support | Get a fully immersive high-definition audio experience with the latest Blu-ray movies |
| AMD PowerPlay™ Technology | Power draw scales according to activity so when GPU activity is low, the power draw is minimal |
| Enhanced Unified Video Decoder (UVD) 3 | Watch the hottest Blu-ray movies, online video and other HD content beyond 1080p with low power and low noise with GPU acceleration and enhanced Unified Video Decoder (UVD) 3 features |
The Power of HIS
The Excalibur, once owned by the invincible King Arthur, denotes the leader's mighty kingship with its mystical power and fascinating beauty and brings him triumph battle after battle.
Now HIS raises this sword again for gamers.
The Legend reborn... Prepare to conquer the gaming world!
HIS PRODUCTS ADVANTAGE
HIS delivers Faster, Cooler, Quieter plus the best quality product!
Professional customer service and technical support
What's in the box
HIS Graphics Card
CrossFireXTM Bridge
2x Power Cable 2x 4pin in, 6 pin out
DVI-VGA Adapter
Install CD with Multilingual User Guide
Quick Installation Guide
HIS Power Up Label
DiRT® 3™ Redemption Coupon
(Starting at mid-June and available while stock last)

| | |
| --- | --- |
| Model Name | HIS 6950 IceQ X Turbo X 2GB GDDR5 PCI-E HDMI/2xDVI/2xDP |
| Chipset | Radeon HD 6950 PCIe Series |
| ASIC | RadeonTM HD 6950 GPU |
| Manu. Process (Micron) | 40nm |
| Memory Size (MB) | 2048 |
| Memory Type | GDDR5 |
| Engine CLK (MHz) | 880Mhz |
| Memory CLK (Gbps) | 5.2Gbps |
| Memory Interface (bit) | 256 |
| Power Supply Requirement | 500 Watt or greater power |
| Max. Resolution | 2560*1600 (Single Display) |
| Bus Interface | PCI Express x16 |
| Mini Display Port | Yes |
| HDMI | Yes |
| DVI | Upper Single-link DVI-D + Bottom Dual-link DVI-I |
| VGA | No |
HD 6950 System Requirement
PCI Express ® based PC is required with one X16 lane graphics slot with 2 slots space available on the motherboard
500 Watt or greater power supply with two 75W 6-pin PCI Express® power connectors recommended
Certified power supplies are recommended. Refer to http://ati.amd.com/certifiedPSU for a list of Certified products
Minimum 1GB of system memory
Installation software requires CD-ROM drive, a keyboard, a mouse, and a display
DVD playback requires DVD drive and a DVD
Blu-ray™ playback requires Blu-ray drive and a Blu-ray disc
For an AMD CrossFireX™ system, a second AMD Radeon™ HD 6900 Series graphics card, an AMD CrossFireX™ Ready motherboard and one AMD CrossFireX™ Bridge Interconnect cable is required

May 5th, 2012 at 06:23 am
By Christopher Fortney
I wasn't sure about what to buy honestly, even with my IT degree with all these brands etc but I have to say I agree with Brian before THIS THING CAN PLAY ANYTHING I will never buy from another company again! Also I would note that You must get a decent power supply for this baby!
HIS you have a new dire hard fan!
July 6th, 2011 at 11:38 pm
By Brian Archambault
I have been a gamer from the age of 13 an now 42 years old. I have purchased many video cards from many makers over the years. Some i have loved others hated but HIS has opened my eyes to a new level. I have purchased 6950 iceq x turbo an this card makes not one sound at all so quiet. Second it eats everyting i shoot at it, never over heats an keeps FR up near max. I WILL NEVER purchase a video from another company again.
Its a winner all the way arnound.
for $100 less then a 6970 an only 20mhz slower the 6950 iceQ X turbo win's hands down.
Great works HIS you have one perm customer for many many year.
thanks for all your hard work
Post your comment
Comments will be reviewed by the editors before being published, mainly to ensure that spam and irrelevant material are not published . Please feel free to comment!
We strongly encourage you to use your real name. E-mail addresses are required in case we need to follow up with you directly. We won't publish your e-mail address unless you request.






HIS has won over 1700 awards with AMD graphic solutions from major media worldwide.

"HIS 6950 IceQ X Turbo X is certainly capable of delivering solid framerates and the 2GB of VRAM does help at the higher resolutions.The IceQ heatsink keeps things cool and quieter than the reference design." PureOverclock "Great Hardware"

"HIS Radeon HD 6950 2GB IceQ X Turbo X card i have to say that it did far better that I had expected with almost equal numbers to the Gainward GTX 560 Ti GS." Real World Labs "Editor's Choice Award"
"This was actually one of the quietest cards we have ever tested which is certainly impressive when you consider the temperatures it achieves. Some serious respect has to be given to HIS' engineers on this one." Hardware Canucks "DAM GOOD Award"

The HIS Radeon HD6950 IceQ X Turbo X video card comes with a pretty high clock already and pushing it further didn't require any extra voltage or effort… Add to this the benefit of 2GB memory and multi monitor Eyefinity support, and you have a good deal all in all. Benchmark Reviews "Golden Tachometer Award"

"If you're looking at the card for a multi-monitor gaming setup, then again, you won't be disappointed as long as you are willing to drop down from the maximum in Anti-Aliasing in the most demanding titles." - Viperlair "Recommended Product"

Back